As much as I love the classic British Easter favourite, the hot cross bun, I also like to learn and try what other countries eat during this festive season.
Whilst doing some research on this Italian Easter bread (also known as Pane di Pasqua), I found that its origin story varies depending on the region. In the medieval times, nuns baked this bread in a tall cylindrical pan during Holy Week using 40 eggs to represent the 40 days of Lent. Some food historians go on to say that the round, wreath-shaped breads are meant to represent the crown of thorns worn by Jesus at his crucifixion while the eggs represent Christ's empty tomb once he rose again.
If any Italians are reading this, I would love to hear your version of how the Italian Easter Breads came to be.
The Italian Easter bread is an enriched dough made with eggs, milk and butter which produces a taste and texture similar to the French brioche. This sweet bread is sometimes flavoured with citrus rind, anise seed, and/or a dash of Sambuca or Strega. In my recipe, I use vanilla extract and the zest of an orange.
When it comes to dying the eggs, there's no need to boil them as they cook with the bread in the oven. I recommend dying them the day before so you can focus on just the dough. To learn how to dye eggs with food colouring, click here. If you prefer not to use eggs as decoration for this recipe, you can certainly omit them.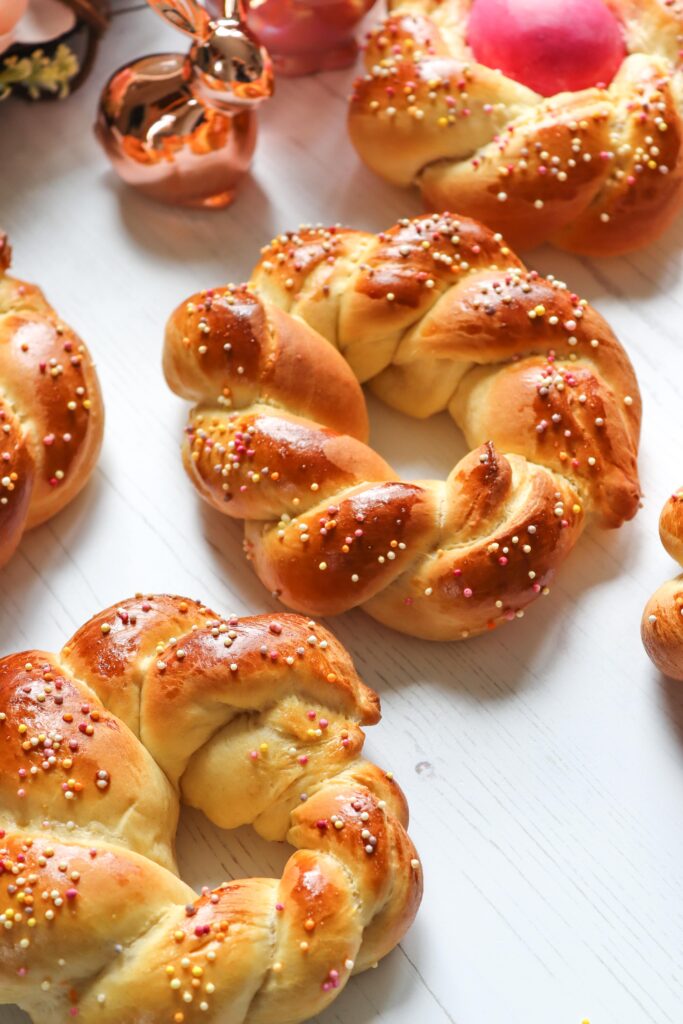 To those from the rest of the world, please tell me your traditional Easter treat. I'm keen to try them too!
6 fl. oz. milk
2 oz. unsalted butter
2 eggs
3 oz. granulated sugar
1 tsp. vanilla extract
1 orange, zested (optional)
1 sachets (7g) instant yeast
16-18 oz. bread flour, plus extra
1 tsp. salt
Oil, for greasing
For the egg wash
1 egg, beaten
1 tsp. water
For the decoration
Coloured sprinkles (I use 100s and 1000s)
7 dyed uncooked eggs, optional (click here for method)
I'd love to see how you've made it! Tag me on Instagram @neyskitchen.official  with #neyskitchenofficial or contact me to submit your photos.