Cassoulet is a French-style, rich, slow-cooked casserole typically containing pork and white beans and often confit duck. Originating in southern France, it is named after its traditional cooking pot, the casserole, but it can also be cooked in a cocotte.
This recipe calls for cured pork bork belly, pork rind and duck confit. A good butcher should be able to order those in for you or they now more easily accessible to order online. My husband typically makes cured pork belly, so if you'd like to have a go at making cured pork belly yourself, send me a message on Instagram or email me 🙂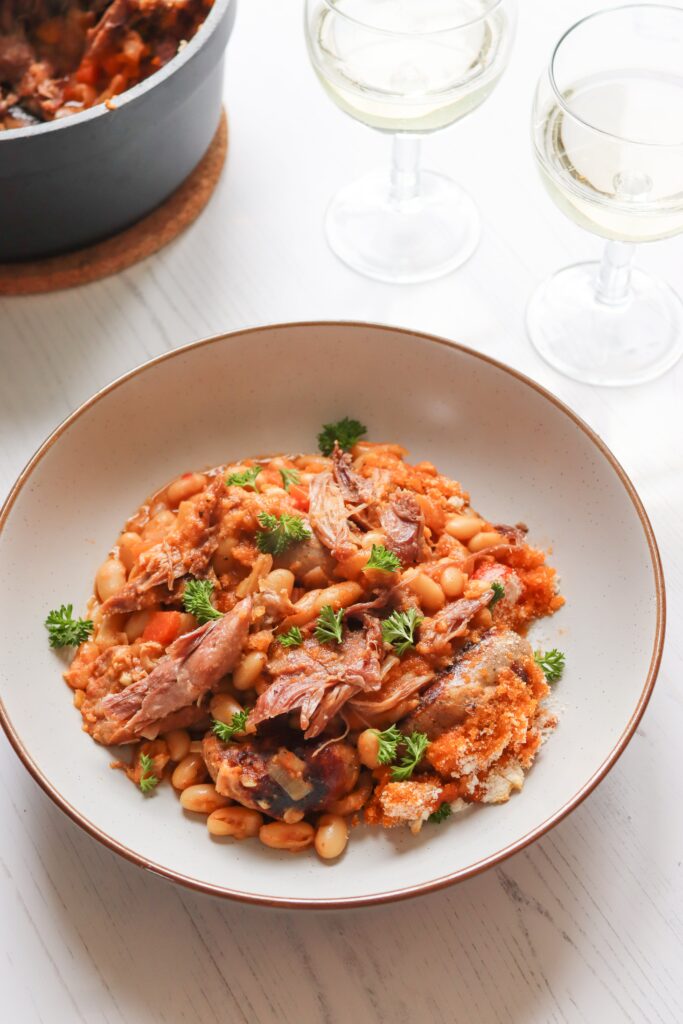 For the bread crumbs
5 slices of white bread, stale if possible
For the stew
2 duck confits, with fat and glace gently scraped off but reserved in separate bowls
Vegetable oil
2 oz. pork rind, finely chopped
9 oz. cured pork belly
½ litre homemade chicken stock (or a very good shop-bought version with low or no salt)
½ can chopped tomatoes
1 onion, finely diced
3 garlic cloves, minced
1 tsp. tomato purée
8 oz. Toulouse or garlic sausages, cut in half
2 cans cannellini beans, drained and rinsed
3 oz. diced carrots, pre-boiled and drained
2 bay leaves, lightly crushed
¼ tsp. sage
¼ tsp. thyme
¼ tsp. cayenne pepper
Lemon juice or red wine vinegar, to taste
Salt, to taste
To garnish and serve
4 cherries tomatoes, cut in halves
Lemon juice or red wine vinegar, to taste
Chopped fresh coriander
I'd love to see how you've made it! Tag me on Instagram @neyskitchen.official  with #neyskitchenofficial or contact me to submit your photos.