Vegan and Low Fat Double Chocolate Muffins
You probably wouldn't use words like 'vegan' and 'low fat' to describe a delicious and moist chocolate muffin, but I can surprise you with this recipe.
There's little fat used and there's no vegan butter or plant-based milk added to this recipe.
Understandably, some baked goods that don't have fat (like butter or eggs) can be dry, crumbly and bland. However, I am very confident this recipe creates soft, fluffy and moist muffins. It's mostly about the baking time. I recommend that you slightly under bake these muffins as they will still be baking as they are left to cool.
I've developed this recipe with dieters in mind and those wanting a more plant-based lifestyle. However, I have been adamant not compromise on taste and quality.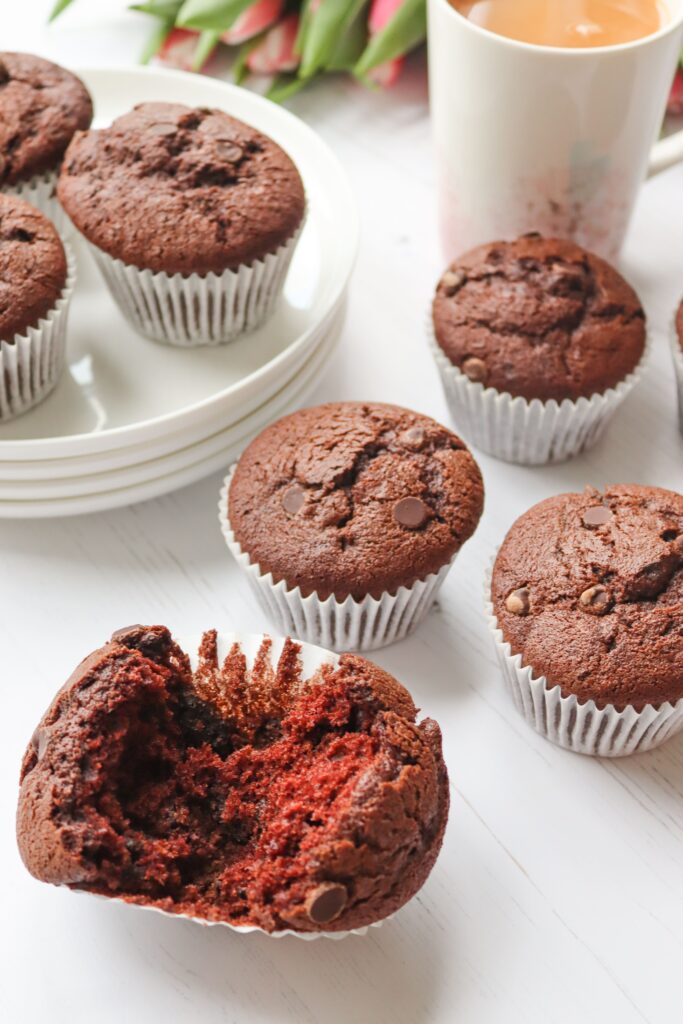 In my opinion, food (especially specialty foods) shouldn't be designed to exclude others or make them feel like the odd one out. This recipe will be well-received by vegans and non-vegans alike so that everyone can enjoy this tasty treat together.
For this recipe, I like to use a mix of chopped dark chocolate and chocolate chips, as the chocolate chips tend to melt and disappear into the muffin. Of course, use what's available to you.
This recipe can also be served as a dessert paired with vegan ice-cream and fresh berries.
8 ½ oz. self-raising flour
3 tbsp. cocoa powder
½ tsp. baking powder
1 tsp. bicarbonate of soda
¼ tsp. salt
7 oz. granulated sugar
8 fl. oz. water, room temperature
3 fl. oz. sunflower oil
1 tsp. vanilla extract
1 tbsp. white distilled malt vinegar
3 oz. chopped dark chocolate
3 oz. dark chocolate chips, plus extra for sprinkling
I'd love to see how you've made it! Tag me on Instagram @neyskitchen.official  with #neyskitchenofficial or contact me to submit your photos.