Pull-Apart Garlic Bread Wreath
Need simple and festive recipes ideas for Christmas? This pull-apart garlic bread wreath would be a nice centrepiece for any fun occasion as well a nice way for everyone to join in the feasting!
This easy recipe uses a simple pizza dough that produces a light and fluffy texture once baked. It also includes a spicy marinara sauce for the dip… delicious!
I highly recommend that you make the garlic butter the day before, so that the flavours fuse together.
Also, to avoid stress in the kitchen, this recipe can be made a day in advance. Simply wrap the wreath in clingfilm, set aside at room temperature and warm up in the oven for 5 minutes. Before serving. The marinara sauce can also be warmed up or served at room temperature.
Tips
#1 Sprinkle some grated mozzarella on top the top before baking for cheesy dough balls.
#2 Instead of marinara sauce, you can have a pesto or cheese dip of your choice. Leave the bowl empty when baking, then add the sauce once ready to serve.
#3 To make this recipe vegan friendly, use vegan butter instead of ordinary butter.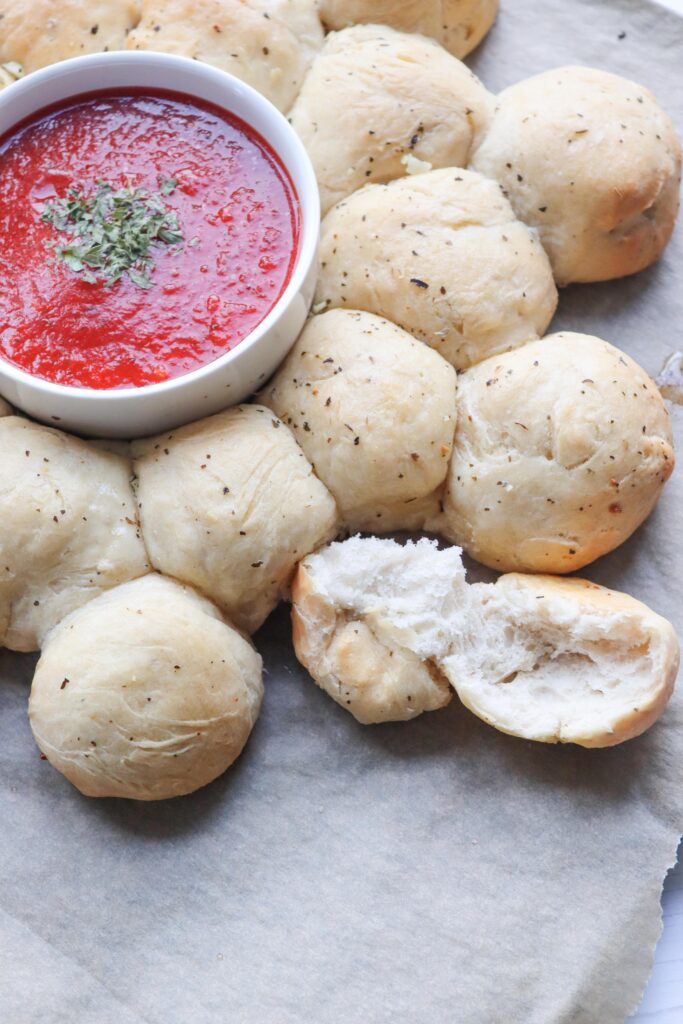 For the garlic butter
4 oz. salted butter
4 garlic cloves, minced or finely chopped
1 tsp. basil
½ tsp. oregano
For the dough
10 fl. oz. warm water,
7g instant dried yeast
1 tsp. salt
14 oz. strong white bread flour, plus extra
2 tbsp. olive oil, plus extra
For the marinara sauce
1 tsp. olive oil,
1 garlic clove, minced or finely chopped
4 birds eye chillies, or to taste
¾ pt. (500g) passata
½ tsp. basil
½ tsp. oregano
Salt, to taste
I'd love to see how you've made it! Tag me on Instagram @neyskitchen.official  with #neyskitchenofficial or contact me to submit your photos.